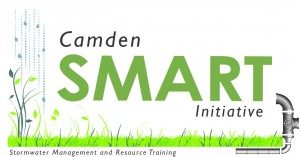 The Camden SMART Initiative (Stormwater Management and Resource Training) was formed to improve the quality of life and environmental and economic health of the City of Camden. The future of Camden is inextricably tied to the environmental and economic health of the region. A green stormwater infrastructure approach is the most environmentally beneficial and economically favorable way to remediate the effects of urbanization on the region's waterways.
Partners
This initiative is a collaboration between the City of Camden, Camden County Municipal Utilities Authority, Rutgers Cooperative Extension Water Resources Program, New Jersey Tree Foundation (NJTF), Cooper's Ferry Partnership (CFP), New Jersey Department of Environmental Protection (NJDEP), public-private partners, community organizations, and most importantly, Camden residents to restore and revitalize their neighborhoods.
Objective
The objective of the Camden SMART Initiative is to develop a comprehensive network of green infrastructure programs and projects for the City of Camden. The initiative includes neighborhood green and grey infrastructure projects, stormwater management policy development, and green infrastructure training programs. The Camden SMART Initiative will benefit the City of Camden by:
Preventing neighborhood flooding
Reducing combined sewer overflows
Creating sustainable green jobs
Improving air, water and climate quality
Developing environmental policy
Increasing property values
Providing economic development opportunities
Adding recreational amenities and open space
Beautifying neighborhoods
CCMUA's Role
As a founding member of SMART, the Camden County Municipal Utilities Authority is responsible for the treatment of sewage discharged from properties in Camden County. Inefficient management of stormwater, especially where there are combined sewers, impacts the ability of the Authority to treat wastewater and increases the incidence of combined sewer overflows to the river. The Authority is supportive of the Camden SMART Initiative as it may reduce the quantity of storm water that
is sent to the Authority's treatment plant,
discharges to the Delaware River, or
floods Camden's streets and/or residents' homes.
As a Camden SMART partner, the Authority has pledged to assist with project coordination and implementation, as well as the identification of potential funding for the initiative.
Camden SMART Project Links
Projects
Videos

Articles and News Reports (Selected)
Reports, Documentation, and Brochures