---
Our Authority is scheduled to have an audit by DEKRA Certifications of the Environmental Management System on March 29th to March 31st, 2021.
The purpose of the audit is to verify that Biosolids Management Practices in place continue to conform with requirements and expectations of the National Biosolids Partnership BMP Elements and CCMUA Biosolids EMS.
The audit will also assess the performance and effectiveness of the CCMUA Biosolids EMS.
Interested parties are invited to contact our Authority for more information.
---
An Environmental Management System (EMS) is a framework that helps an organization achieve its environmental goals through consistent review, evaluation, and improvement of its environmental performance.   The program is designed to identify a utility's most important priorities and then ensure that the utility's resources are harnessed toward meeting those top priorities and continually improving.
In 2010, the CCMUA became a National Biosolids Partnership (NPB) Certified Environmental Management System Agency in recognition of its commitment to environmental performance and community service. Certification from the National Biosolids Partnership—a joint venture between the United States Environmental Protection Agency, National Association of Clean Water Agencies, and the Water Environment Federation—is a tremendous honor for water and wastewater utilities. At the time of its certification, the CCMUA was the first water or wastewater utility in the State of New Jersey–and only the 31st agency, out of over 14,000 utilities–to receive this prestigious national honor. The CCMUA has since been certified at the Platinum (highest) level.
The Authority achieved International Standards Organization 14001:2004 certification during 2016.  The Environmental Management System current certification under the standard ISO 14001:2015, was achieved during 2018.  The standard sets out the requirements for an environmental management system.  It helps organizations improve their environmental performance through more efficient use of resources and reduction of waste.  It requires that an organization considers all environmental issues relevant to its operations, such as air pollution, water and sewage issues, waste management, soil contamination, climate change mitigation and adaptation, and resource use and efficiency.
Each year an independent certification body audits the Authority's practices against the requirements of both  the International Standards Organization ISO 14001:2015and the National Biosolids Partnership standards.
In general, an Environmental Management System is a management program designed to identify a utility's most important priorities, and then ensure that the utility's resources are harnessed toward meeting those top priorities and continually improving performance.
Environmental Management System Scope
The scope of the EMS is: Wastewater treatment, biosolids production and community service at the Delaware #1 Water Pollution Control Facility, including pretreatment, wastewater treatment, effluent discharge, biosolids preparation and drying, biosolids transportation and use.
Since the CCMUA implemented an Environmental Management System, it has:
Improved odor control performance by installing approximately $20 million in new odor control equipment and implementing institutional and operational controls to improve performance.
Reduced operating costs such that the CCMUA's user rate is actually lower than it was in 1996 after considering the effects of inflation.  Specifically, the CCMUA has held its rate during this period while simultaneously improving environmental performance.
Begun the Long-Term Control Plan well ahead of necessary compliance timing.
Added 100 acres of Greened Area in Camden for stormwater capture and Brownfield reduction.
Developed a recycling program for use in local schools.  The school district received a recognition for the program from Sustainable Jersey.
Constructed a combined heat & power plant that will be in service in 2019, leading to increased self-sufficiency in energy generation.
Worked with the US Water Alliance as an example for initiatives for reducing sewer overflows and safe drinking water.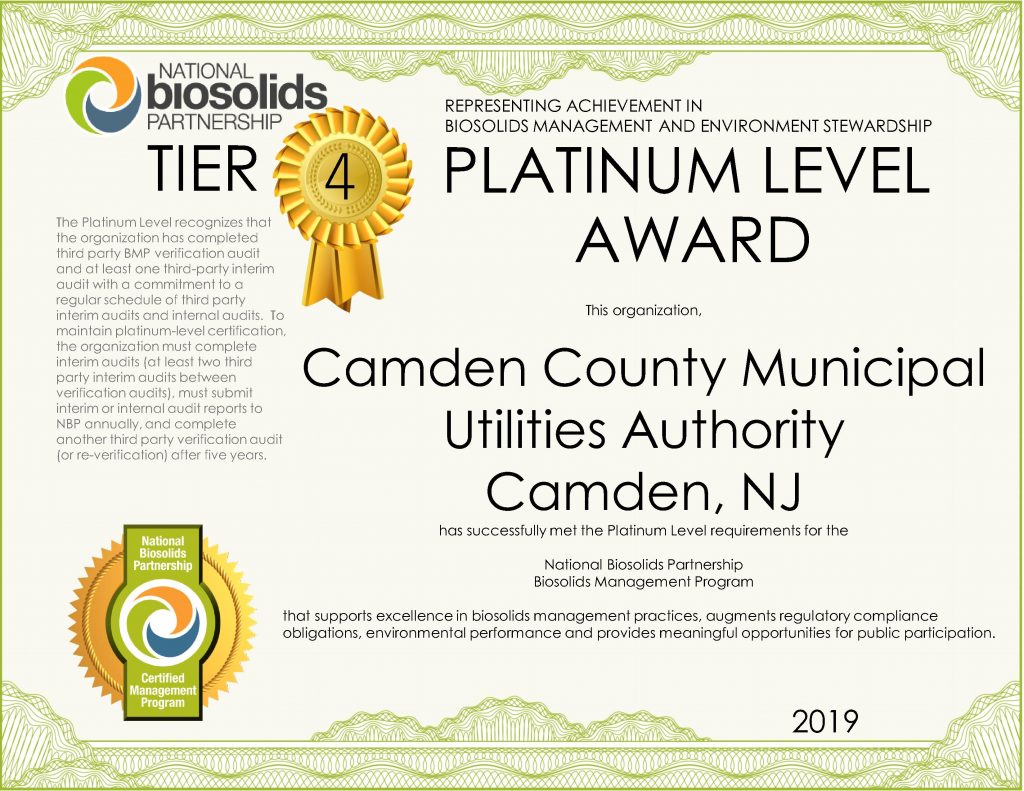 Documents
Environmental Management System Manual
Slide Presentation on CCMUA Environmental Management System
EPA Report on EMS Case Studies including CCMUA
Article in Treatment Plant Operator magazine, featuring CCMUA
2019 Performance
2018 Performance
2017 Performance
2016 Performance
2015 Performance
2014 Performance
2013 Performance
2012 Performance
2011 Performance
2010 Performance